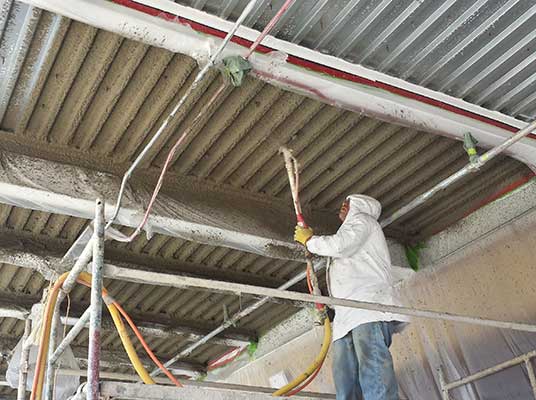 May 19, 2021 / By sprayfk_admin
If you have a home and love to keep your precious things close to you at home, you will soon need professional fireproofing services. The investment would give you not only peace of mind but also eliminate the pain of losing your most valuable items in the unfortunate events of the fire.
Across the world, sprayed fireproofing is required in many commercial and residential buildings to prevent or delay the collapse of concrete and steel structures exposed to extreme fire. The materials insulate the array of structural steel and other materials during the event of a fire, which results in delaying any loss of the integrity of the structure.
Spray Foam Kings provides professional fireproofing services, offering customers a unique, one-source approach to fireproofing. We specialize in sprayed fireproofing as well as insulating your home precisely. Fireproofing applications would typically include steel decking, structural beams, and siding systems.
Why choose fireproofing spray over anything?
Fireproofing through spray is the latest range in fireproofing. The spray is considered to be the easiest of ways to fireproof materials. The effect of the spray stays long, and any fire outbreak is fought off well. The method to apply the spray is pretty conventional and does not cause any inconvenience to the people living in the area.
Coating cables and circuits through the fireproofing spray cover the color of the cable jacket. We maintain the thickness of this coating on the cables at least 2.5mm from all sides. If the cables happen to be really close to the wall, then we may stuff mineral wool between the cables, and the wall will be coat over.
Our professional fireproofing services not only provide you a barrier against fire accidents but also control the noise and maintain a comfortable house temperature. When you are in search of fireproofing services, you must hire someone with years of knowledge and expertise to work on your project.
When you take assistance from Spray Foam Kings, our experts guide you in which material would work best for your property needs. We are licensed and follow all safety guidelines while working on your fireproofing project. Moreover, our team is efficient enough to complete the fireproofing work on time under a reasonable budget.
We also insulate basement walls in Canada.
A basement is a place used to keep all your occasionally used items. Therefore, We find the basement not so essential to give it extra care or invest an extra cents in maintaining it. Moreover, we never give much attention to insulate the basement, do we?
Do you know that taking a chance with insulation of your basement can result in high expenditures? What if we tell you that improper basement insulation actually affects the overall energy efficiency of your home? It also reduces the consumption of energy and eliminates moisture retention on the walls and roofs.
Improperly insulated basements can allow moisture accumulation condensation. This minor looking issue can lead to attracting harmful fungi, mildew, and mold growth in basement walls over time. These problems will slowly deteriorate the structure of your home with each passing day.
Mold and mildew growth can enhance the risk for serious health issues such as skin allergies, problems in breathing, eye irritation, etc. When you properly insulate your basement walls, you minimize the chances of these situations occurring.
In a climate like Canada, freezing pipes are always a concern in the wintertime. If the basement is uninsulated, they could be at risk for freezing on a snowy day. Avoid this issue entirely by insulating basement walls. Basements with proper insulation do not encounter this issue.
At Spray Foam Insulation, we provide the ideal solution to insulate basement walls in Canada effectively. Our spray foam insulation will precisely seal and fill up even little space and gap. This seal will prevent rodents, insects, and other pests from creeping inside the basement, which is a prevalent problem.
The spray foam insulation service that we provide will improve air quality in the basement minimize the risks of air-borne allergies by mold growths. It is efficient in preventing fungi and mold growth by blocking the way for moisture and foundation leaks. Insulating your basement will certainly help to regulate the temperature of your complete home. Contact us today to get expert fireproofing and insulation services that add value to your living space!