Attic Insulation
Spray Foam Insulation is the answer to your attic problems in Toronto
If you are having a house in a cold climate, keeping it warm and cozy is quite expensive. Attics are one of the main reasons of energy loss and increased utility. Your unsealed attic can be one of big causes of high utility bills. Whether it's the replacement of your old worn out insulation or you are planning to install a new one, SPRAY FOAM KINGS has the right solutions of Attic Insulation in Toronto.

Inspecting Your Attic
Periodic inspection of your attic is important. If there are any leaks and gaps in the existing insulation it can be fixed on time. For detailed and precise inspection a professional is always a better choice. With the assistance of our team of Attic Insulation in Toronto you will not only avail the free estimate but as well as they will suggest you what type of insulation will be the best considering where you live. Your home's age is also another important factor to consider while selecting the right type of insulation.
R-Value
Most of the home owners are unaware which insulation will work best for their property. When you hire the services of Spray foam kings our team guides you regarding the product. We make sure that we suggest the product which has the best R-value. "R-value means the heat resistance of a specific product. Higher the R-value higher will be the resistance and the better it will perform."
Open and Closed-cell Foam Insulation
Open cell and closed cell foam are the different types of spray foam insulations. Both types have their own pros and cons. This specific type of insulation is called open or closed cell because of the difference in the bubbles which are the cells. In open cell foam insulation the cells are left open and it is a more flexible type of insulation. Whereas in closed cell foam insulation the cells are pressed together making it more rigid and completely closed.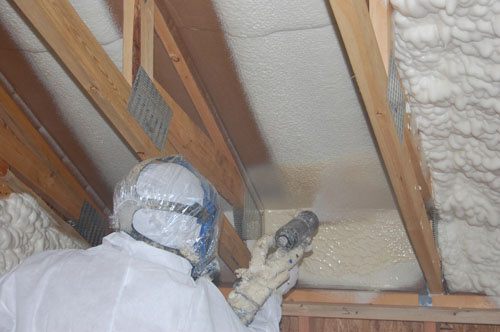 We Provide Expert Advice
Attic insulation is underestimated by most of the home owners. Having it installed will provide you with energy savings plus home comfort. There are tons of insulation products in the market but spray foam insulation will provide you several benefits as compared to the other types. Though homeowner's put a lot of effort to keep up the overall appeal of their homes; and to improve and enhance the indoor functioning of the heating and cooling systems insulation is the way to go. Depending on the need and requirement of your property our team will suggest the best type of spray foam insulation which will provide you with efficient results. Call 647-641-6881 for a free over the phone estimate for your Attic Insulation in Toronto.
Feel Free To Drop Us A Line To Contact Us
Spray Foam Kings looks forward to serving you for all your insulation needs