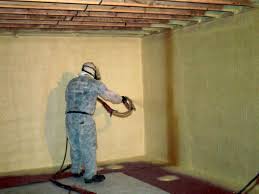 December 20, 2022 / By sprayfk_admin
If you reside in a house with an unfinished basement, you may have considered remodeling it to make a more functional room. However, consider whether it will be worth the time, effort, and money to do so. An unfinished, uninsulated basement can dramatically reduce the efficiency and value of your property. Simply adding basement insulation can improve your home's energy efficiency, lessen the strain on your HVAC system, and improve year-round comfort.
We will go over some of the possibilities to assist you in choosing the best one for you because there are many insulation options available, and you might wish to integrate your insulation project with other house improvements, such as weatherproofing. Contact a professional insulation contractor who knows how to insulate basement walls in Ontario.
Will Insulating a Basement Make the House Warmer?
Depending on the season, a home with good insulation can help keep the interior warmer and colder. Insulation will assist in keeping cool air inside throughout the heat. Adequate insulation will help keep your home warmer throughout the colder months, reducing energy costs.
Your goals and your basement design will determine the best strategy to insulate your home. Here are a few additional factors to take into account:
The state of the basement.
The primary and secondary usages of your basement space.
Access to utilities (uphold access to HVAC vents).
Should You Insulate Your Basement Walls?
Insulating your basement is generally smart because it will benefit you in the long run. In addition to keeping your house warmer, wall insulation may also assist in the area being soundproof. When installing insulation, many homeowners decide to "finish" their basement, increasing its efficiency, aesthetic appeal, and functionality.
Should You Insulate Your Basement Ceiling?
Maybe. Insulating the basement ceiling can increase the comfort level of your home's traditional first floor. As a result, the insulation will keep the cool air below and the warm air above from mixing, keeping the basement cooler.
Installing ductwork and vents that send warm air to the space will solve the problem of a cool basement if you intend to utilize your basement as a living space. Alternatively, consider insulating the basement ceiling.
Over To You
Insulating, your basement walls and ceilings is up to you. If you do so, then you will get various benefits. But before that, you have to contact Spray Foam Kings for top-notch insulating services. If your project needs heat-resistant spray foam insulation, we are here.