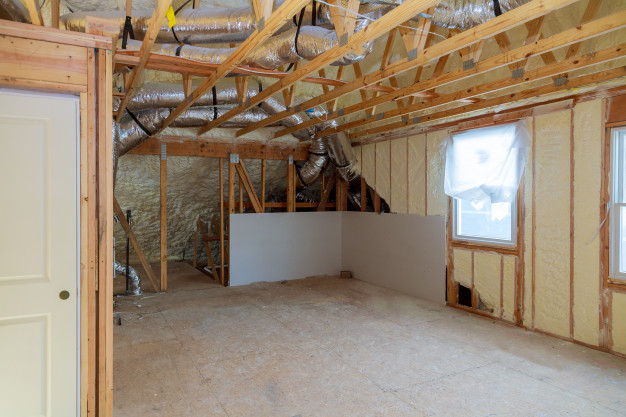 May 20, 2022 / By sprayfk_admin
Home insulation is not a one-size-fits-all solution. Factors like the size of your home and its architecture affect which type of insulation material will be best for your home's needs. Choosing the right type of home insulation can help you save money on heating, cooling, and lighting bills. Insulation also helps fire safety and soundproofing.
If home insulation is essential to a comfortable, energy-efficient home, which is the best insulation. You have to hire a professional for home insulation in Toronto to get the best solution for your insulation needs. In this blog, we'll compare all the different types of home insulation. So continue reading to know more about the types of home insulation and find which one is the best choice for your home.
Types of Insulation
1. Loose-fill Insulation
Loose-fill insulation is ideal for attics and crawls spaces because it's easy to install. Loose-fill insulation is blown and sprayed in a hard-to-reach place. It consists of loose mineral wool and fiberglass. It provides high R-values, excellent soundproofing, easy installation, and complete coverage.
2. Insulation Rolls
Insulation rolls help you efficiently and quickly add insulation to your home. Easy to cut and install, these durable foam rolls are perfect for use in attics, basements, and crawl spaces. Insulation can reduce heating bills while increasing comfort levels in your home. Insulation rolls are an affordable option, and you don't have to worry about hiring an expert for installation.
3. Foam Board Insulation
Foam board is a popular type of insulation, having a high R-value (meaning it is highly resistant to heat flow). You can use this insulation almost anywhere. Unlike other forms of insulation, foam board is rigid. Foam board is somewhat more expensive than some other forms of home insulation.
4. Spray Foam Insulation
Spray foam insulation, a liquid latex that spreads and hardens when exposed to air, is used primarily in open wall cavities. You can choose from these two types of spray foam; Open-cell foam has a lower R-value than closed-cell foam. Closed-cell foam is more expensive but has a higher R-value. Both types can damage wiring if not used correctly.
5. Wall Injection Foam Insulation
Wall Injection foam insulation is a versatile, efficient type of retrofitting insulation. It can be used on closed wall cavities of existing homes, regardless of the exterior surface.
Get Expert Advice Getting the proper insulation for the home is a vital process that should not be taken lightly. So consider hiring professionals of Spray Foam Kings. We can offer the best insulate basement walls in Canada. In addition, we are dedicated to providing our customers with the best information to make an informed decision on spray foam insulation. Give us a call if you would like to know more about the services we offer.