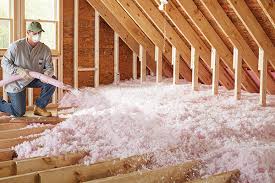 November 25, 2021 / By sprayfk_admin
Spray foam insulation is one of the finest insulation products on the market, and homeowners considering it in Toronto appear to be making the right call. Nothing compares to the performance of spray foam when it comes to air sealing, moisture management, and energy economy. Simply put, spray foam insulation is considered a practical approach to prevent air leakage while also providing thermal insulation.
While fiber-based insulation has long been the king of home insulation, many Toronto residents are increasingly hiring spray foam insulation for various reasons. One is the cost-effectiveness of spray foam, and it's now widely regarded as the industry's gold standard; and it outperforms alternative insulation technologies while remaining economical. Check out why attic insulation contractors in Mississauga recommend spray foam insulation.
Common Types of Spray Foam
The industry commonly uses two types of foam: half-pound open-cell foam and higher-density closed-cell foam (two-pound). Open-cell foam is a less expensive option that provides a decent air barrier but no water vapor protection. Closed-cell foam is denser and, as a result, provides excellent air and water vapor barrier. These spray foam insulations are considerably superior to traditional fiberglass insulations, according to industry.
They also back up the claim that the two-pound product does a better job of sealing the house than any other type of insulation now available. Spraying foam insulation is applied directly into a wall, floor, or ceiling cavity using specifically designed application equipment. It starts as a liquid and swiftly turns into the solid, firm foam left behind.
Why Choose Attic Insulation?
Spray foam insulation in the attic delivers optimal energy efficiency while also lowering energy usage and seasonal utility expenses. Contractors are increasingly recommending spray foam insulation in Toronto as the product of choice for the attic/roof. Spray foam accomplishes more in a single application than anything else.
It completely air-tights the attic and roof cavities. Spray foam has a very high R-Value insulation and gives structural strength to the entire installation area. Hence, it is considered the best choice for attic insulation. Moving forward, you can also consider hard foam insulation wall panels for the basement and attic.
Final Words It's critical for homeowners considering spray foam insulation in Toronto to hire a professional to complete the job. The product itself necessitates specific handling, and the application itself demonstrates that experience and expertise are required. Anything too short may cause problems in the long run. Homeowners will immediately notice a difference in their home's energy efficiency after installation. In the long run, the significant savings will "pay down" the original project investment year after year. Contact Spray Foam Kings, CA, for the best spray insulation service.