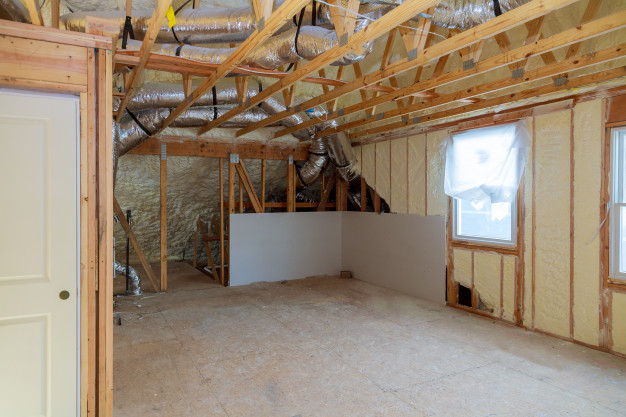 June 15, 2021 / By sprayfk_admin
If you live in a cold climate, it must be costly to keep your house warm. Sure, you can use heaters and cover yourself with bulky sweaters, but imagine a naturally friendly environment even if it's chilly outside. Yes, it is possible by insulating a few moisture-prone areas in your home.
For instance, people insulate basement walls in Ontario as it's one of the dampest areas and a perfect habitable site for mold. Insulation provides the optimum sealing of voids around wiring, pipes, walls, or any other area with awkward framing. In plain words, it is a long-term investment that will stop the outside air from entering inside and maintain a cozy atmosphere. 
Moreover, it will keep a shut on the high heating bills of your house. As per the department of energy, properly Insulating basement walls and other areas of the house can cut down 10 to 50 % of your statements that you were paying unnecessarily.
If you think that insulation works only in winter, you are wrong. In summers, it helps stabilize the indoor environment of the house by preventing the escape of coolness through tiny voids. It means you don't need to keep your air conditioner on for the whole day, saving you more money.
Benefits of insulation in the home
It offers a comfortable environment to live
It controls moisture and prevents mold growth
By putting a stop to mold, it contains your family's health
It saves energy
A variety of attic insulation materials are there for insulation. However, we at Sprayfoam Kings offer spray foam insulation, one of the best on the market. Spray foam is considered the most reliable because it has the highest R-value, making it suitable for almost all climates and houses.
It has a spongy texture that goes deep within the void and thoroughly seals them. It acts as an extra barrier that also prevents vapors. In comparison, fiberglass insulation does not entirely stop air and moisture. If you are looking to insulate basement walls in Ontario, contact us today for the best service and high-end results, all within a reasonable budget. 
Residential and Commercial Fireproofing
Now that you are aware of insulation benefits, fireproofing is necessary to secure your place for now and in the future entirely. According to studies, fire accidents are significant causes of damage to property and valuable documents. You never know what the next moment may bring. Therefore, it should always be prepared from your end at least to survive.
The sole purpose of residential and commercial fireproofing is to make the building structure adaptable to high temperatures. No matter what the atmosphere is, a layer of fireproofing will not allow anything inside your space, including fire.
You must know that nothing on this planet is entirely immune to fire, and therefore fire accidents are one of the most devastating ones. But, at Sprayfoam Kings, we use top-grade fireproofing spray for commercial fireproofing. It provides you a better opportunity to survive in fire accidents and keep your things protected. The best thing about it is that it is suitable to use on any surface, including steel. 
It keeps the steel temperature below 540 degrees and electrical signals below 140 degrees. In accidents, this plaster will resist the fire and give you more time to escape safely and take wiser steps to stop firing.
Fireproofing spray is so promising that it is utilized in various construction projects, such as bridges, chemical plants, factories, and the tunnel's concrete lining.
Benefits of Fireproofing
Suitable for all surfaces
It also provides thermal insulation.
It is easy to apply and bonds well with the surface
It is weather-resistant and non-halogenated.
It delivers long-lasting protection.
Contact Us
We have a team of experienced and skilled professionals who will take care of your home and office in the best way possible and ensure you get the maximum benefits in the coming years worth the cost you paid. Visit our website today to learn more, or contact us directly for a free consultation!